anyone have the October 29th HOB San Diego setlist?
Does anyone happen to have one or two tickets that you're willing to sell to the Bouncing Souls/Flogging Molly show on Dec. 11th in LA. I didn't think it would sell out so fast, and I'm super bummed. Any help would be really appreciated. Thanks

where I could hear the original...

Thanks.

x
I just found out that "Lean on Sheena" is a cover of another song. I was wondering if anyone knows


email me about it please! maragannon@optonline.net
does anyone have an extra ticket to the show on wednesday at Webster Hall? i just found out that my best friend will be in town that night and they want to go. i already have my ticket but i really really really really need another one.
I'm actually hosting them here in my home town: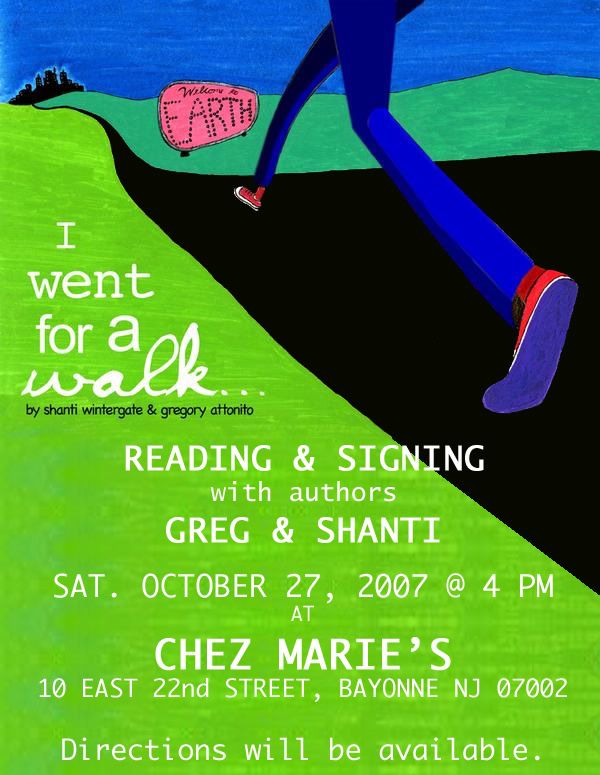 Everyone is welcome to come and bring their younger siblings, since after all it is a children's book! We will have a bake sale with goodies. Books are now on pre-sale through their MYSPACE at
I WENT FOR A WALK
. (At the signing/reading they will bring books if you do not feel like having it mailed to you!) Directions and such will be up soon! We hope to see you there!
As a few of you may know, Greg and his wife Shanti have written a children's book. They are doing a book tour together this fall visiting local schools, libraries and such spreading the story far and wide.
any Bouncing Souls albums they'd be willing to send me? (besides Anchors Aweigh and the self titled album).
I'd appreciate it so much; cause Im completely broke right now. :/
my email is citiesofevil@yahoo.com
thanks in advance.
does anyone have
Look at the Savings!
$33.50 - Ticketmaster On-Sale Base Price for the 8/2 Cleveland Show
$20.25 - Pre-Sale Ticket Base Price
= $13.25 in SAVINGS!
TICKETS!!

EXCLUSIVE PRESALE ITEMS:
- Limited Edition 2007 "Lucky 13" Tour T-Shirt
- 2007 Double CD Compilation Album for $3.50
- Discounted 12 month Alternative Press Magazine Subscription also including a "Cut the Autograph Line" Pass


**WIN WARPED MERCH AND OTHER GREAT PRIZES!
Check our myspace page for all confirmed bands and dates
Don't miss your last chance to get discounted tickets to the 2007 Vans Warped Tour Presented by AT&T! The Pre-Sale will be ending this Friday, April 13, 2007 at 5pm.
The 2007 Vans Warped Tour Presented By AT&T Pre-Sale has officially begun with exclusive giveaways and discounted tickets. Already confirmed for this year's tour are THE MATCHES, Yellowcard, Coheed and Cambria, Red Jumpsuit Apparatus, Cute is What We Aim For, Bad Religion, Big D and the Kids Table, The Vandals, New Found Glory, The Used, etc with more bands TBA! You don't want to miss this!
Exclusives through the pre-sale:
1 - DISCOUNTED TICKETS - Tickets are reduced through the pre-sale with tickets priced at $20.24/ticket with 25 cents benefiting the Hollywood Heart charity! Tickets sold through the public on-sale can run up to $38/ticket plus ticketmaster service fees!
2 - EXCLUSIVES. Receive a copy of the 2007 Vans Warped Tour Presented By AT&T Double Compilation CD for only an additional $3.50 - half off the retail price!
3 - EXTRAS. For only $10, Receive a 1 year (12 issue) subscription to Alternative Press Magazine plus an AP "CUT" Pass that allows you to cut to the front of the line at any Vans Warped Tour presented by AT&T AP Meet and Greet (this offer only available through the pre-sale).
---
GET YOUR TICKETS NOW!
---
For more details about the pre-sale, please visit
http://www.myspace.com/warpedpresale
Pre-Sales Ending This Week (4/1-4/7)
7/15 – Houston, TX – Reliant Park - Presale ends THURSDAY, APRIL 5th at 5PM Eastern Time
8/2 – Cleveland, OH – Time Warner Cable Amphitheater at Tower City – Presale ends THURSDAY, APRIL 5th at 5PM Eastern Time
Hey Kids,
CANADIAN TOUR DATES

04/19/07 Haifax, CA
04/21/07 Quebec City, CA
04/22/07 Montreal, CA
04/24/07 Ottawa, CA
04/25/07 Hamilton, CA
04/26/07 London, CA
04/27/07 Toronto, CA
04/28/07 Timmins, CA
04/30/07 Thunder Bay, CA
05/01/07 Winnipeg, CA
05/02/07 Regina, CA
05/03/07 Edmonton, CA
05/04/07 Calgary, CA
05/05/07 Banff, CA
05/06/07 Vancouver, CA
05/07/07 Victoria, CA